DNS Fix
Mac users: following the normal instructions to install the Pharos Popup client (MacOS X Yosmemite and later) will allow printing both on wired campus networks and Eduroam without any further configuration.
Full members of University staff: (and anyone with VPN privileges) can install the Pharos popup client from here:
\\software.rdg.ac.uk\ManagedPrint\Windows\MPSFollowMe_for_Lte.exe (Note that this must be fully qualified, if you use just \\software this will probably throw a manifest error unless they are already connected to this somewhere else)
Subsequently, they will be able to send jobs to FollowMe printers so long as they first connect to VPN.
Students and anyone who does not have VPN access or prefers not to use it: will find it necessary to add a dns suffix to their Eduroam network configuration as well as installing the Pharos popup client.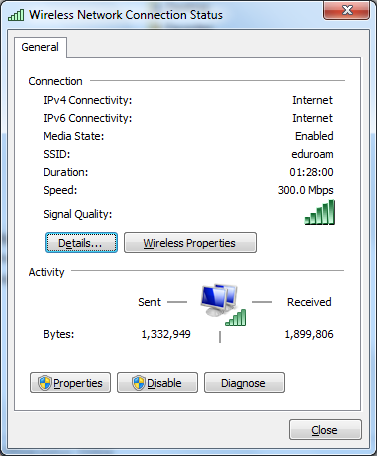 Right-click on the wireless icon in the System tray and select Network and Sharing Centre.
Click on Wireless Network Connection (eduroam), then Properties.
Select Internet Protocol Version 4 (TCP/IPv4) and Properties.
Click on Advanced... and the select the DNS tab.
Check the Append these DNS suffixes (in order) radio button.
Click Add... and then enter the suffix rdg.ac.uk.
Do the same thing for Internet Protocol Version6 (TCP/IPv6).